Lucas "Chumbo" Chianca Wins WSL Big Wave Tour Nazaré Challenge
Lucas "Chumbo" Chianca (BRA) won the World Surf League (WSL) Big Wave Tour (BWT) Nazaré Challenge .


The second-ever BWT event at Nazaré ran over two days after dangerous conditions threatened the competitors following the opening heats on Saturday. Big Wave Tour Commissioner Mike Parsons, alongside the judging panel, rated conditions a Bronze coefficient with wave faces in the 25-to-35-foot category.

Competing in his second-ever BWT event, Chianca earned his first Finals appearance and first BWT win today after dominating the competitive 24-man field, made up of the world's best male big wave surfers. The 22-year-old demonstrated command over Nazaré's powerful waves and challenging whitewater speeds to climb up to World No. 5 on the Big Wave Tour rankings.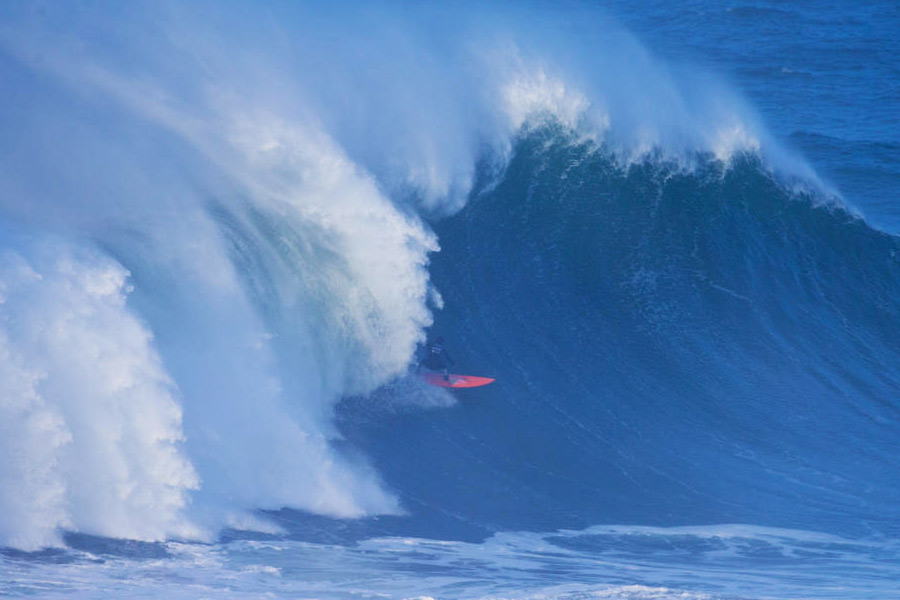 "I am stoked to win this event," Chianca said. "Thank you to everyone for all of their support. I am grateful to win this event and all these guys competing are so crazy and inspiring. It was hard because when you get the call for BWT events, it is at the last minute. We flew here as soon as we got the call, were a bit tired, and then just went straight into the competition the next day. The waves yesterday were so gnarly and scary. And then today, we were on again. I am super stoked. Thank you."

The six-man Final witnessed reigning BWT Champion Grant "Twiggy" Baker (ZAF), 2017/2018 Puerto Escondido Challenge winner Kai Lenny (HAW), two-time Pe'ahi Challenge winner Billy Kemper (HAW), and up-and-comers Natxo Gonzalez (EUK), Nathan Florence (HAW), and Chianca go all out for the event win.

Lenny kicked off the hour-long Final with a low-range score, a 3.83 (out of a possible 10). The next wave of the set saw a split peak between Baker and Chianca. Baker was only able to pick up a 3.50, while Chianca gained control of the heat with an authoritative 7.33. Gonzalez challenged Chianca with two mid-range scores, but the Brazilian punctuated his performance with a solid 6.73. Kemper stayed patient and was able to collect a 4.83 and 4.67 at the end of the heat to surpass Gonzalez, Lenny, Baker, and Florence for second place.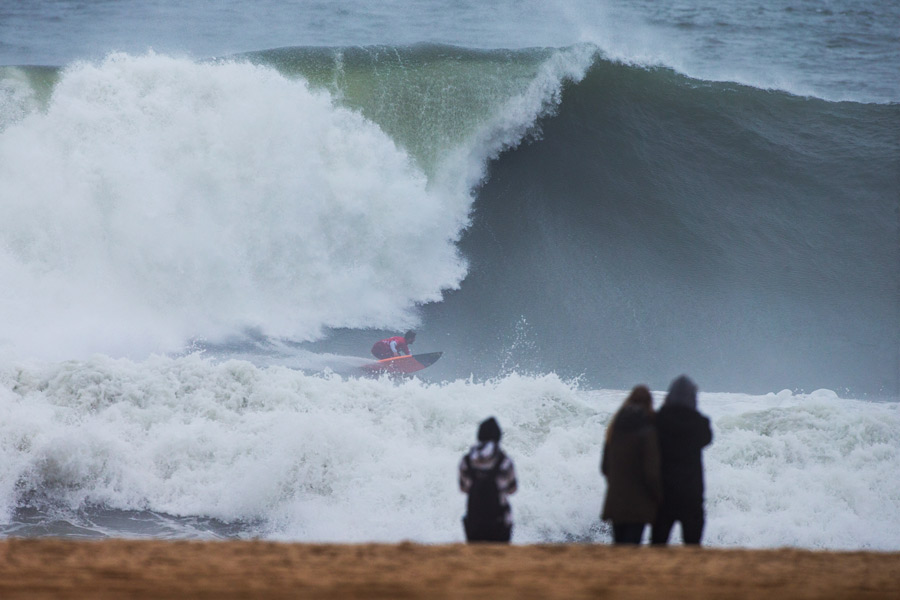 Kemper's runner-up finish now puts him at World No. 1 on the Big Wave Tour rankings, topping Lenny by only 2,311 points. His recent success, both on the WSL Qualifying Series (QS) and Big Wave Tour, is a testament to his training and commitment to surfing. Not only does Kemper lead the BWT ranks, he recently won the Sunset Open Qualifying Series to put him in second place on the Hawaii/Tahiti Nui Regional QS rankings.

"I am over the moon right now," said Kemper. "First and foremost, I want to thank the country of Portugal. All of the people here are absolutely amazing and this place is beautiful. The warm welcome that you give all of us surfers is next to none. I am very thankful. I came here with that goal to make the Final and do as best as I could. Obviously, that was in my mind the whole time, but I just took it heat-by-heat, wave-by-wave. I am very thankful and stoked to end up where I am at."

Jamie Mitchell (AUS), 2016/2017 Nazaré Challenge winner, was eliminated in the first Semifinal heat along with yesterday's Round One standouts Alex Botelho (PRT) and Peter Mel (USA). Mitchell fought his way through the six-man lineup but fell just 1.20 points short of advancing to the Final. The Australian currently sits in 6th on the BWT rankings with only 17 days remaining in the tour window.

Tom Lowe (GBR) attracted international attention after his pencil-dive wipeout from a monstrous Nazaré wave in 2016 and came into this event ready to perform. The surfer from Cornwall proved to be a serious threat with his Round 1 Heat 4 win but could not find the same rhythm to advance out of the Semifinals. Lowe has become a household name with his Top 10 ranking on the WSL Big Wave Tour this season and will exit in 11th place.

Today's win marked a first for Chianca, but also a last for his mentor, Carlos Burlé (BRA). A fellow Brazilian who pioneered big-wave surfing and rose to become a BWT Champion, Burlé retired last year but competed at this event as an end-of-career victory lap.The fifty-year-old big wave surfer was eliminated yesterday in Round One Heat 2.

"I am super stoked to be able to work with Lucas (Chianca) -- such a great talent -- and be able to help the sport still after retiring," said Burlé. "It has been an amazing life pursuing big waves and watching and witnessing all the building of this beautiful sport that I love so much. What I see for big wave surfing is a bright future. I see a lot of young surfers coming with talent and performance in huge waves. It is going to get better and better as the time passes by."

The Mavericks Challenge still has the potential to run before the Big Wave Tour season closes on February 28, 2018. BWT officials will continue to monitor swell systems and weather patterns and will only call the event on when surf reaches the 30-foot-plus mark, mobilizing on 72 hours' notice.

Nazaré Challenge Final Results:
1 - Lucas Chianca (BRA) 19.89
2 - Billy Kemper (HAW) 13.93
3 - Natxo Gonzalez (EUK) 13.83
4 - Kai Lenny (HAW) 13.23
5 - Grant Baker (ZAF) 11.04
6 - Nathan Florence (HAW) 10.89

Nazaré Challenge Semifinal Results:
SF 1: Lucas Chianca (BRA) 14.91, Billy Kemper (HAW) 13.17, Nathan Florence (HAW) 13.13, Alex Botelho (PRT) 12.31,  Jamie Mitchell (AUS) 11.93, Peter Mel (USA) 11.63
SF 2: Kai Lenny (HAW) 18.70, Natxo Gonzalez (EUK) 17.69, Grant Baker (ZAF) 16.99, Nic von Rupp (PRT) 11.43, Ian Walsh (HAW) 11.04, Tom Lowe (GBR) 10.51

Nazaré Challenge Round 1 Results:
Heat 1: Lucas Chianca (BRA) 17.63, Billy Kemper (HAW) 16.33, Nathan Florence (HAW) 14.31, João de Macedo (PRT) 11.56, Hugo Vau (PRT) 9.43, Pedro Calado (BRA) 7.13
Heat 2: Peter Mel (USA) 15.43, Alex Botelho (PRT) 14.23,  Jamie Mitchell (AUS) 9.66, Tom Butler (GBR) 3.14, Carlos Burlé (BRA) 0.00, Aaron Gold (HAW) 0.00
Heat 3: Nic von Rupp (PRT) 20.23, Kai Lenny (HAW) 20.23, Natxo Gonzalez (EUK) 17.57,  Francisco Porcella (ITA) 14.11, Cristian Merello (CHL) 12.77, Makuakai Rothman (HAW) 11.39
Heat 4: Tom Lowe (GBR) 15.10, Grant Baker (ZAF) 13.84, Ian Walsh (HAW) 12.90, Nic Lamb (USA) 11.43, Antonio Silva (PRT) 6.06, Kealii Mamala (HAW) 5.00

WSL Men's BWT Rankings Top 5 (following Nazaré Challenge):
1 - Billy Kemper (HAW) 27,140 pts
2 - Kai Lenny (HAW) 24, 829 pts
3 - Ian Walsh (HAW) 17,757 pts
4 - Makuakai Rothman (HAW) 14,123 pts
5 - Lucas Chianca (BRA) 13,331 pts